Medallia For
Retail
Turn shoppers and associates into brand advocates. Drive service, quality, and loyalty with world class experience management.
Talk to an expert
Medallia For
Retail
Turn shoppers and associates into brand advocates. Drive service, quality, and loyalty with world class experience management.
Talk to an expert
Medallia solutions for retail businesses designed to increase customer loyalty, convert multi-channel shoppers, and improve employee retention and productivity
Capture, analyze, and act on customer and associate signals to transform experiences across the omni-channel shopping journey. Drive business growth and innovation by using a customer-first approach to store experience, product development, quality and speed of service, ease of ordering, and fulfillment.
"Medallia has become a part of the culture at Sephora USA. Every member of our staff uses the Medallia system, which is integral to our continued success."
Learn how Medallia empowers Sephora's staff
Download Now
IN-STORE
Impress customers from the moment they open the door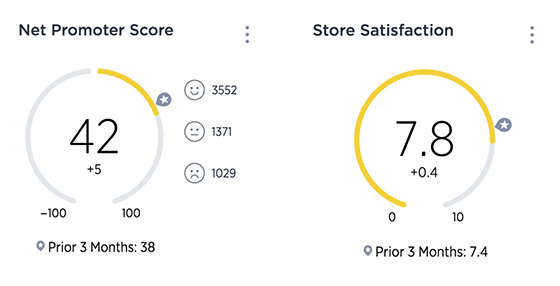 Guests expect the right level of service when they shop. With feedback and insights about in-store experiences readily available, front-line managers, field leaders, and insights teams can quickly take actions to improve service, atmosphere, associate behavior, and operating efficiency.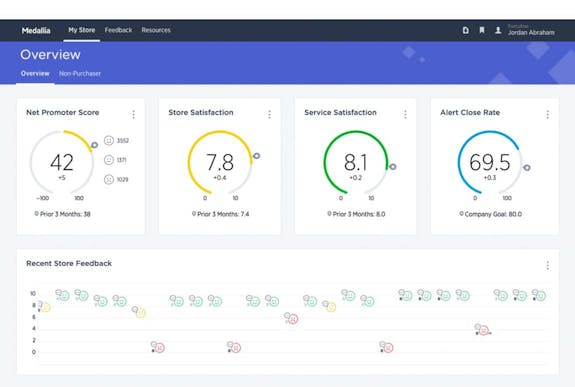 Capture feedback on all the ways customers utilize stores to get inspiration, receive assistance, transact, return items, or pick them up. Use AI-powered Text Analytics to identify critical guest issues before they escalate.
Leverage role-based workflows and real-time alerting on both desktop and mobile to enable staff to prioritize customer recovery and in-the-moment service.
Share experience-based data and insights to empower associates and managers to improve their own actions and coach others to create behaviors that generate repeat visits.
Quickly assess the effectiveness of promotions or new products, targeted by location, segment, or region, using Medallia Ask Now.
OMNI-CHANNEL
Convert multi-channel shoppers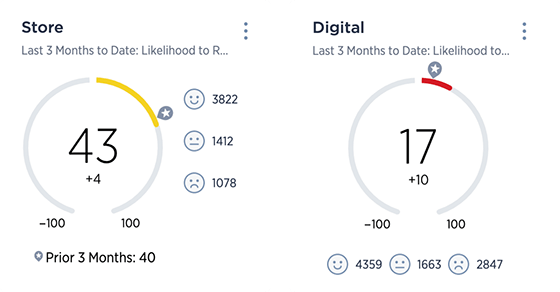 Provide your teams with predictive, experience-based insights so they can delight customers throughout their omni-channel journey. Increase purchase frequency and drive employee engagement by enabling action across the organization to transform web, app, store, and multi-channel fulfillment experiences.
Capture experience signals across all physical and digital touchpoints–from online product discovery to in-store pickup.
Redesign the shopping experience from the customer's point of view. Combine their omni-channel feedback with AI-powered suggestions to guide your approach to innovation and investments.
Empower employees with omni-channel customer experience insights to self-coach based on learnings, know when and where to take corrective actions, and perform root cause analysis.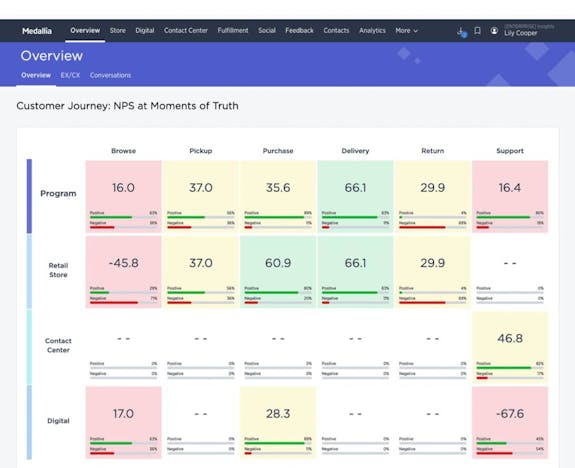 LOYALTY
Use sentiment and behavior to develop long-term relationships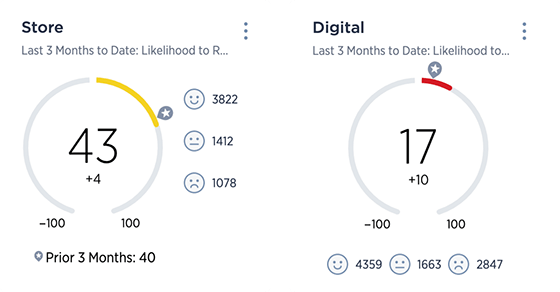 Long-term loyalty requires a deep understanding of what makes customers tick. Why they behave the way they do, why they are happy, and sometimes why they need extra attention. By connecting sentiment with transactional data, marketing, operations, and store teams can develop lasting relationships.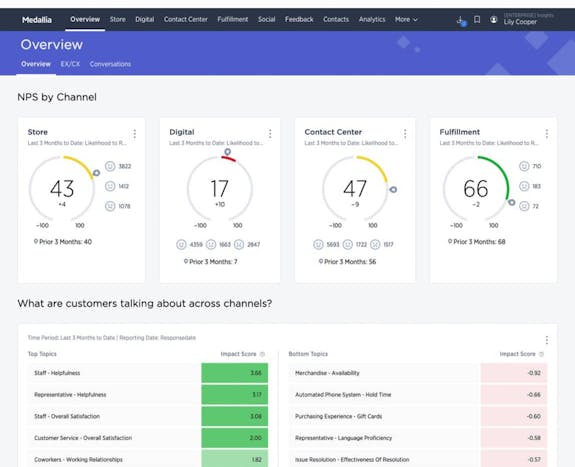 Integrate with key operational systems (i.e., CRM, Call Center, Marketing Automation, etc.) to build a holistic understanding of the customer journey. Automate key processes and share real-time experience information across the enterprise.
Combine feedback, event, operational, and machine data to create comprehensive, 360-degree profiles of each guest's experience with your brand.
Use AI-powered suggestions and journey analytics to generate segments of interest and guide your approach to loyalty investments.
Capture voice of the customer via frontline associates to generate ideas and actions that drive long-term customer satisfaction.
ASSOCIATE EXPERIENCE
Empower happy employees, create brands customers love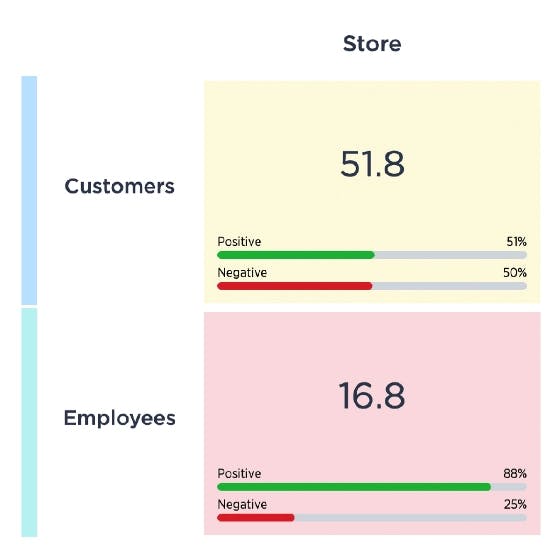 Great employee experience creates high levels of associate engagement which ultimately drives business results. By understanding what impacts staff happiness, and developing associate behaviors focused on positive customer outcomes, brands can improve performance, reduce turnover, and create a culture of empowerment.
Capture and act on feedback across all stages of the employee lifecycle, including talent acquisition, onboarding, training and development, offboarding, and separation.
Enable managers and leaders to assess key drivers of associate engagement, analyze their impact on customer experience, and drive actions for continuous improvement.
Solicit and analyze employee ideas on how to improve their satisfaction, as well as what they see and hear is important to shoppers in their daily interactions.
Ensure employees are effectively enabled to do their work by automating the capture and analysis of feedback related to technology systems and services.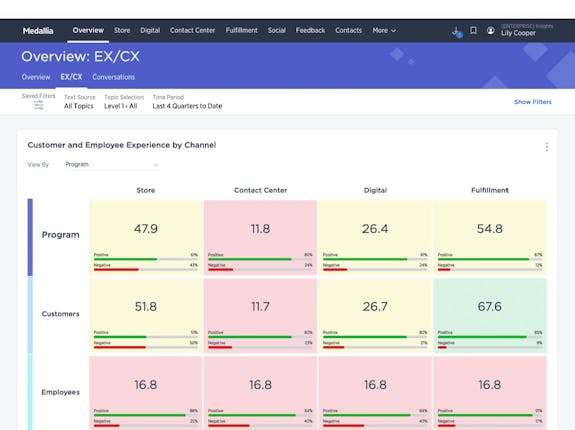 BUSINESS TRANSFORMATION
Listen. Learn. Transform. Innovate.

Customer needs and expectations are changing faster than ever. Brands who are focused on the customer and equipped with comprehensive experience-based data and insights are quicker, more agile, and more effective at delivering world-class experiences and capitalizing on unmet growth opportunities.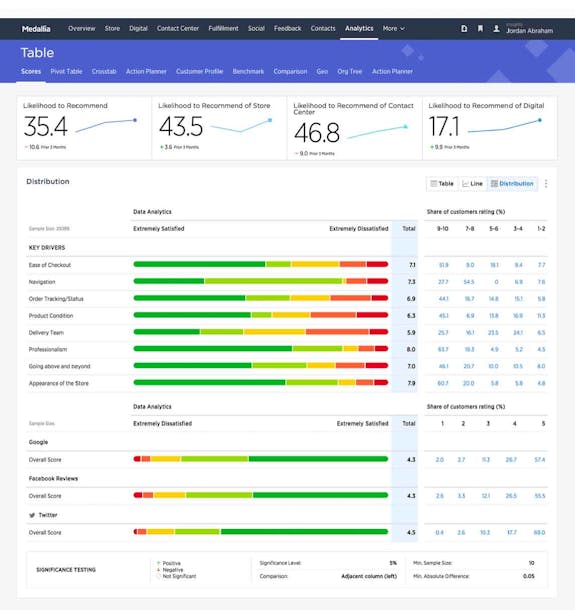 Provide instant access to shopper experience information to all associates and managers using web- and mobile-optimized dashboards tailored to their specific roles and responsibilities.
Prioritize and resolve customer experience issues based on their relative impact to business performance. Use root cause analysis to further identify systemic points of friction.
Use AI-powered suggestions and journey analytics, based on experience data such as customer satisfaction, loyalty status, or interaction channel, to inform strategic growth and development decisions.
Featured Customer Stories
The world's leading companies use Medallia to drive revenue