Improve conversion, sales and loyalty across your entire digital offering with Decibel by Medallia
Decibel by Medallia is the only analytics software in the world that can automatically identify, score and prioritize every online user experience impacting conversion, sales and loyalty. Our forensic tools get to the root cause of urgent issues so you can troubleshoot, validate hypotheses, and find the fastest path to resolution.
Together with Medallia Digital, we empower brands with a complete understanding of what the online visitor thinks and what they are experiencing in the moment to ensure a great online experience — every time.
Access unrivaled experience data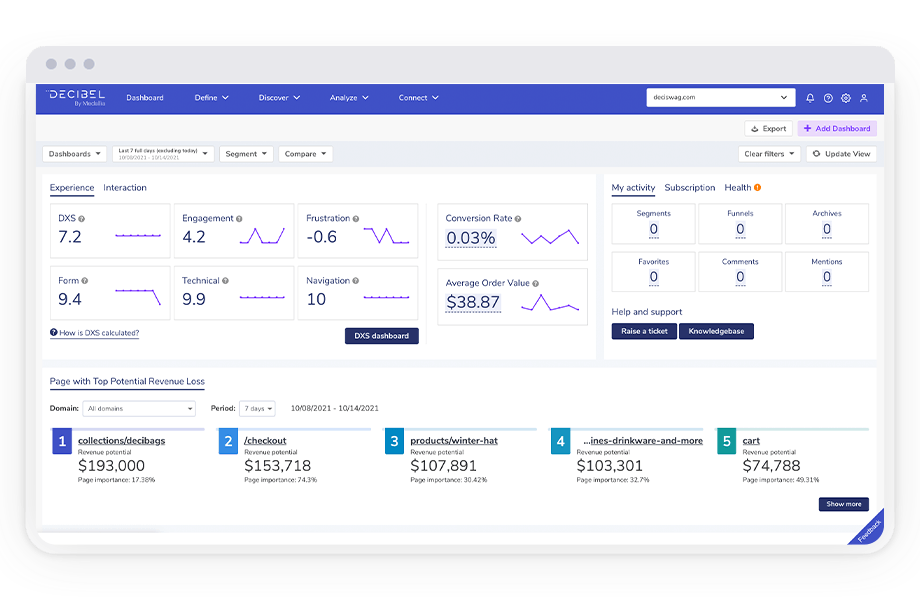 Decibel by Medallia's AI scores every online customer experience to expose what is happening on websites and apps and provides the most advanced tools possible to understand why.
Decibel by Medallia delivers an unparalleled, unbiased assessment of digital experience. Utilize our experience metrics to drive data-driven optimization proven to predict conversion & revenue.

Quantify digital CX with the Digital Experience Score (DXS) that automatically analyzes every online experience to identify the most urgent issues impacting conversion and engagement.

As a validated metric, DXS is calculated on 150+ experience metrics that roll up into 60+ behaviors. This equates to over 3x the collected metrics than our closest competitor in the space
Learn More: The Ultimate Guide to Digital Experience Analytics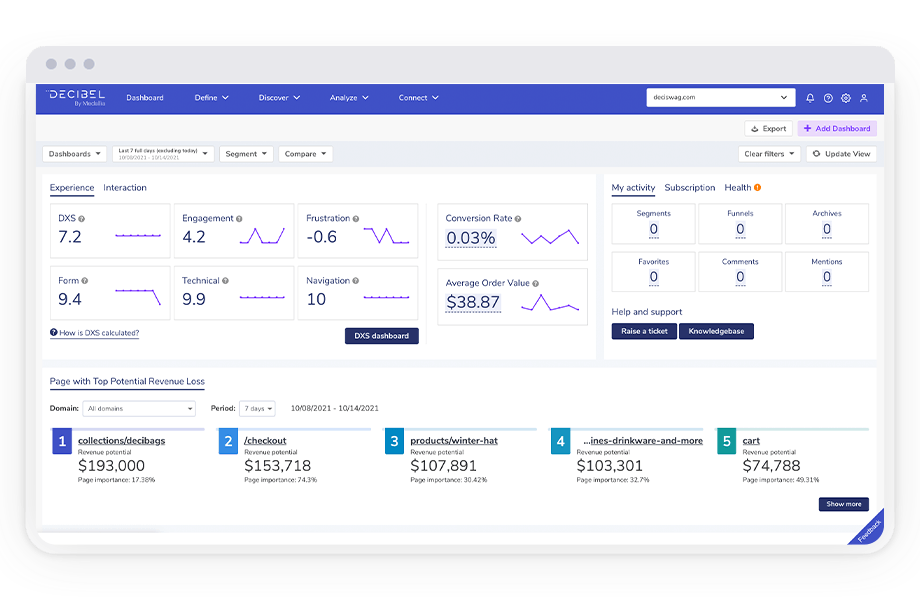 Understand and improve experiences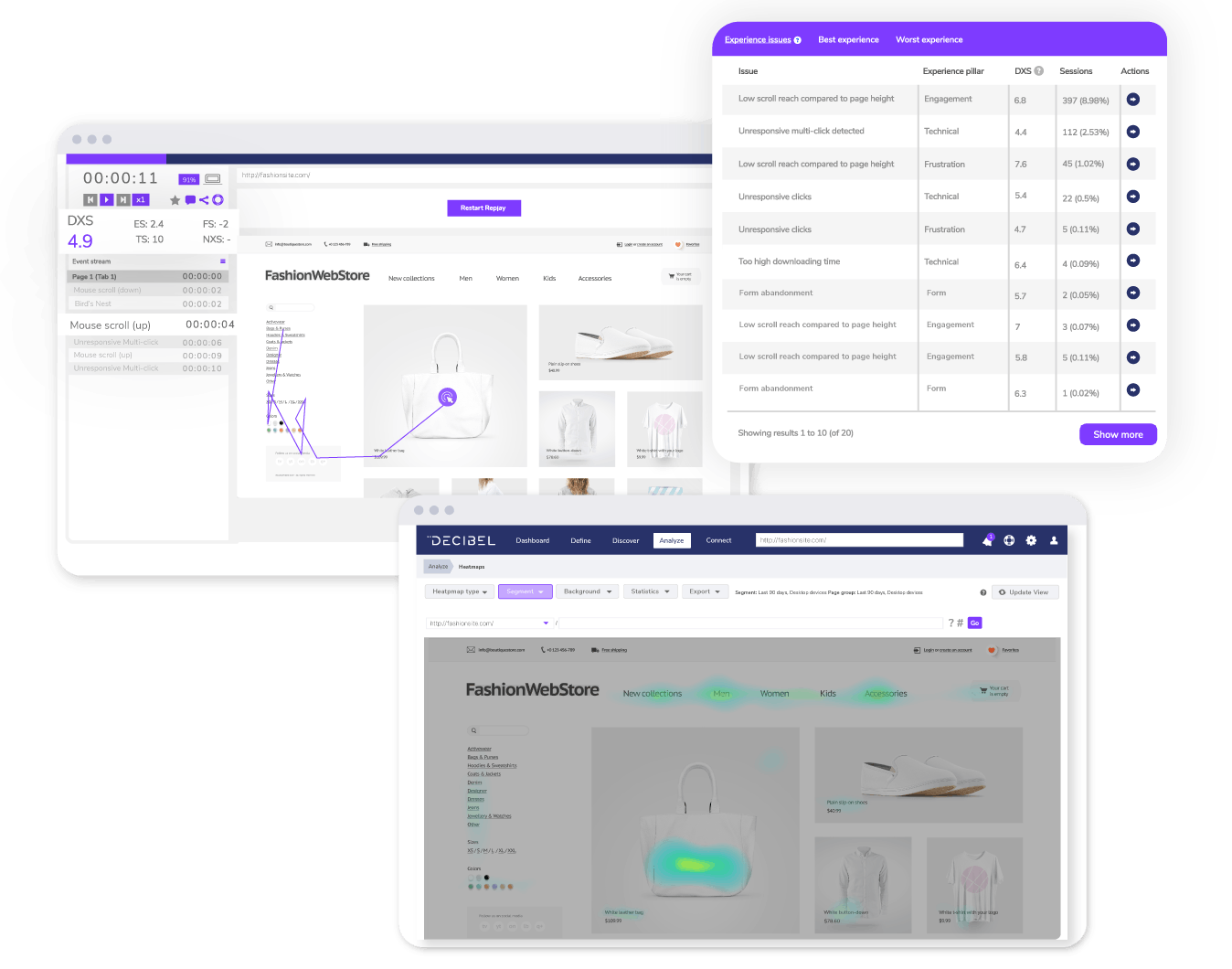 Investigate further with session replay, heatmaps, and experience analysis to step into your customer' shoes, empathize with their experiences, and identify improvements.
Customer Journeys: Get an end-to-end understanding of all user journeys. Visualize the exact paths & understand visitor experiences at each step of the online journey.
Heatmaps: Decibel by Medallia has the most advanced suite of advanced heatmaps in the industry. Visualize on-page user behavior to increase engagement and conversion.
Session Replays: Video accurate renderings of website visits at your fingertips. Get to the root cause of uncovered anomalies by watching the exact experiences of your visitors.
See it in Action: How Ferguson Increased Conversions by 5% with Decibel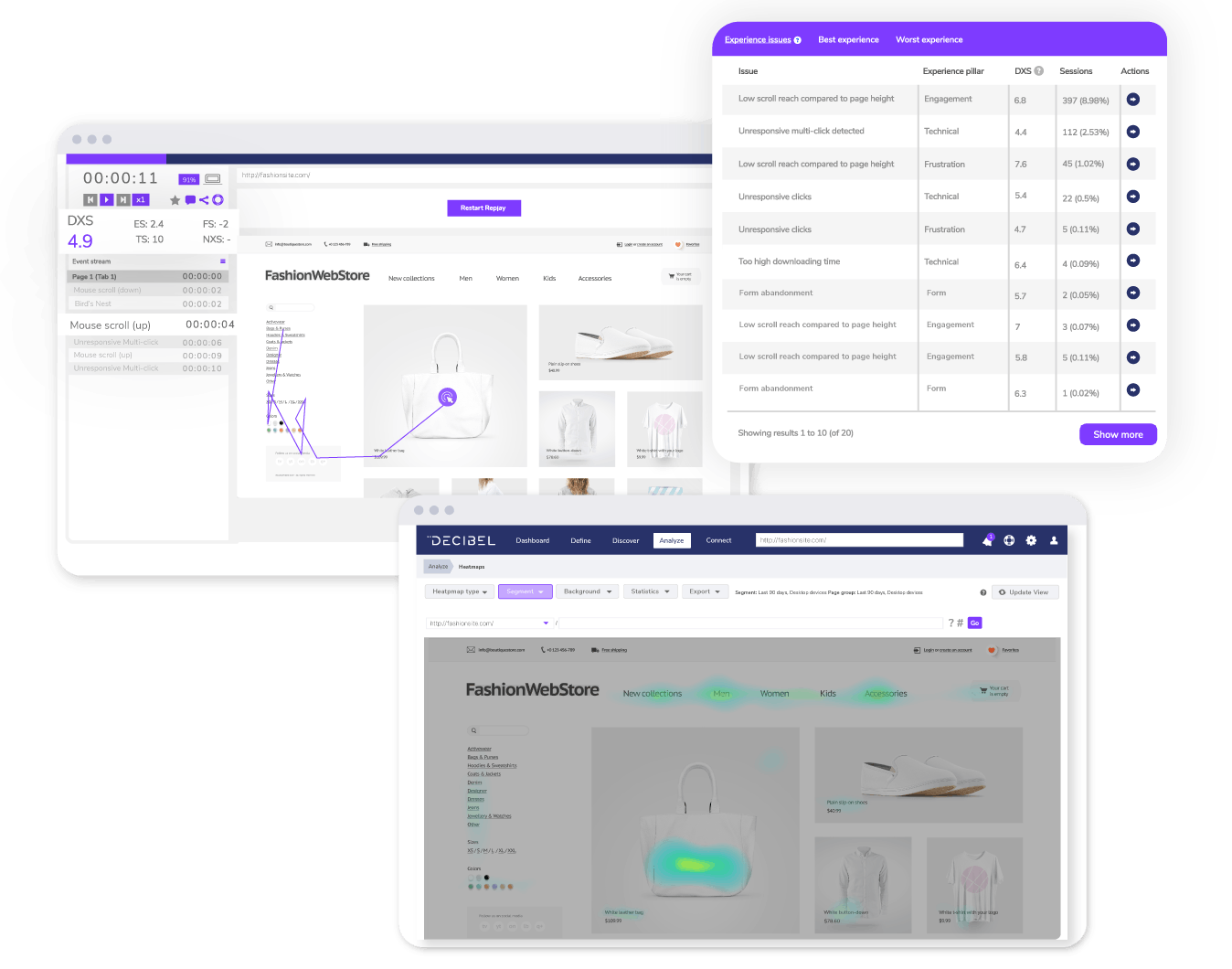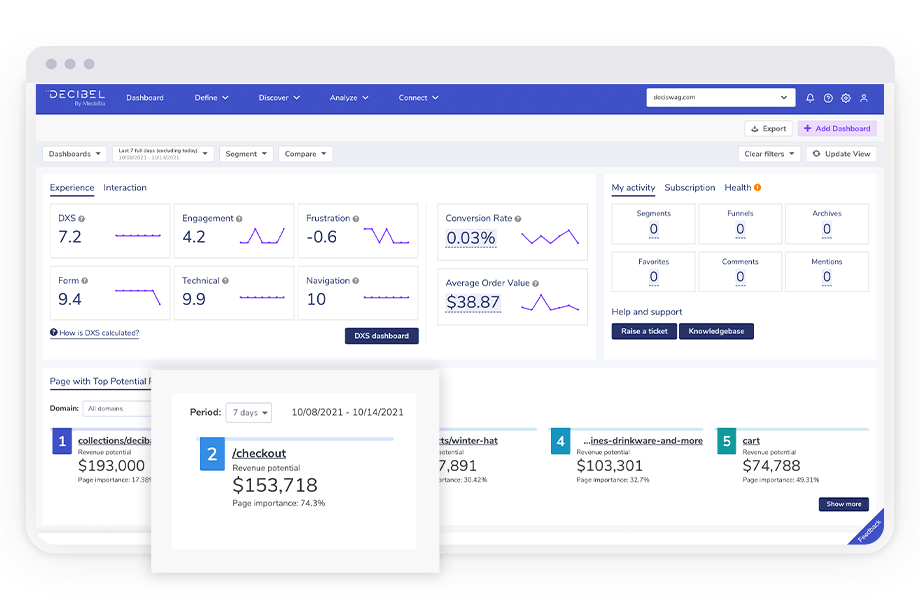 Translate experiences into revenue opportunities.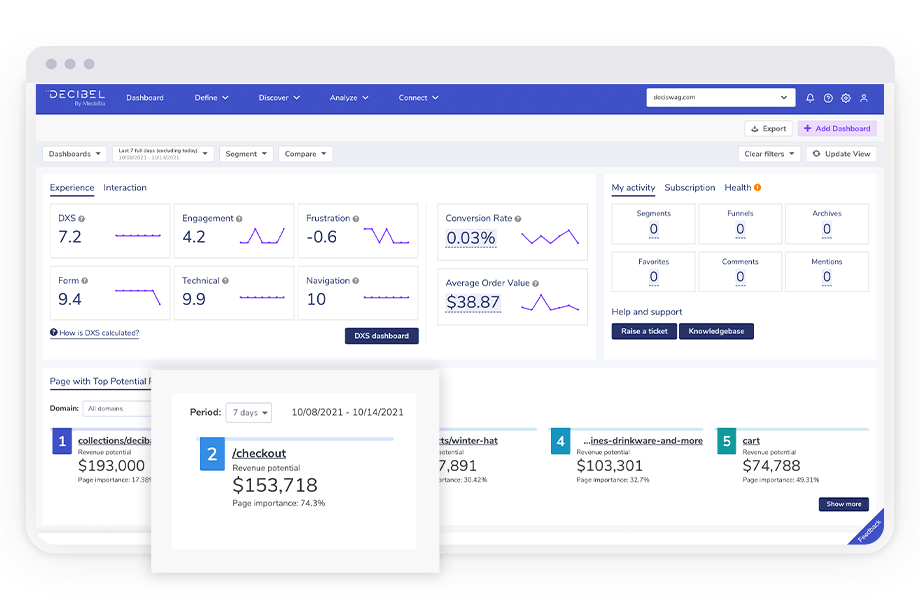 Immediately understand your biggest revenue opportunities. Decibel's AI automatically identifies the top five pages of untapped potential revenue.
Quickly diagnose root causes. Every revenue opportunity is linked to relevant experience issues & session replays, so you can visualize what prevents conversions.
Effectively prioritize resources. Decibel's Page Importance Score surfaces the most critical pages in your conversion funnel so you can optimize efficiently.
Push insights to your martech stack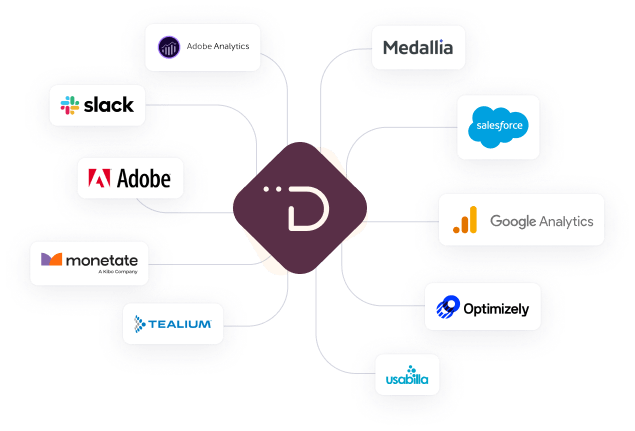 Enrich your favorite analytics, A/B testing, and experience feedback tools to inform all your marketing activities with insights about the 'why' behind online customer experiences.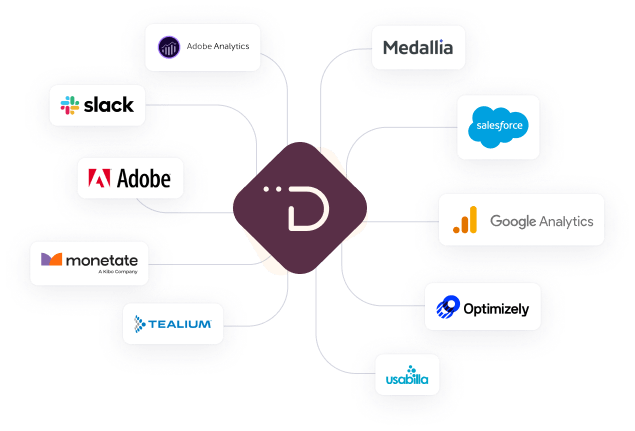 One-click, open API data connectors easily available to import segment data, export session IDs, DXS and more. Most commonly used with Analytics, Feedback and A/B Testing tools.
Send DXS data directly into third party solution like Adobe Analytics for improved segmentation & personalization.
Integrate Decibel's experience data with Medallia's human feedback data, in one place, for a complete profile of the online customer experience.
See it in Action: BT Consumer Uncovers $33.7M Revenue Uplift