DISCOVER GREAT IDEAS
Set challenges, capture ideas, collaborate, vote, review, and select the most valuable outputs.
GROW A SMART CROWD
Get the right input from the right people: employees, customers, partners - whoever they are.
EASY SETUP AND LAUNCH
Get up and running in minutes without any technical knowledge required and integrate with your existing systems.
Ideas, unlimited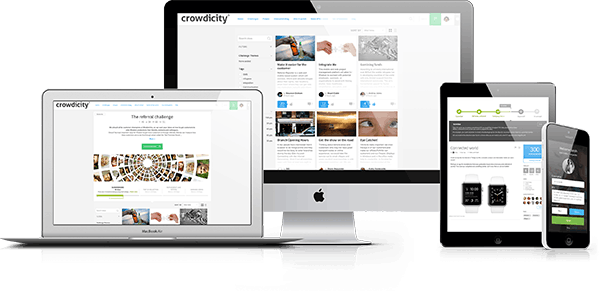 Because Crowdicity is so easy to customise, we've seen thousands of ways that our customers have benefited from it. Here are some of the most frequent uses…
EMPLOYEE ENGAGEMENT
Foster a culture of innovation by implementing an employee facing idea platform.
CO-CREATION
Collaborate on ideas with suppliers, partners and customers.
OPEN INNOVATION & CROWDSOURCING
Capture ideas and insights from an external crowd.
INNOVATION COMPETITIONS AND HACKATHONS
Events based challenges leading to prizes and awards.